The Waihi course has been exceptionally busy throughout the holiday period with tee bookings an essential part of the Waihi golfer's routine, says Waihi Golf Club spokesperson Nan Hoggard.
"It is not a good idea to just turn up for a casual game, unless you are prepared for a long wait to tee off," says Nan.
"It is exciting to see so many players from out of town enjoying the course, some for the first time, and hopefully not the last.
Nan says the greenkeepers have worked hard to maintain the course in good condition.
"But with hot dry weather and the course in constant use over the holiday period their task has not been easy. It is a credit to them that the course is looking good, and a pleasure to play."
Planning is well under way for two major tournaments to be held in February, with the traditional 54-Hole first on the agenda on February 6 and7.
"This is a well-established and popular tournament that has been held for many years, again this year being sponsored by OJI Fibre Solutions, a leading producer of market pulp, paper and fibre-based packaging," says Nan.
"There are still some vacancies in the field, and prospective players are urged not to leave their entries to the last minute or they could miss out on being part of a really good tournament."
A week following this first tournament on February 13 and 14, the Expol PGA Pro-Am Teams' 36-hole tournament will be held again.
"Following the outstanding success of the inaugural 2020 tournament, the organizing committee is confident that it will do as well, if not better, this year," says Nan.
"The influx of players and golfing enthusiasts can only be very beneficial for the Club and Waihi district.  Players were advised not to delay their entries when the tournament was first published in late November, and many were disappointed when within ten days it was full, with a waiting list."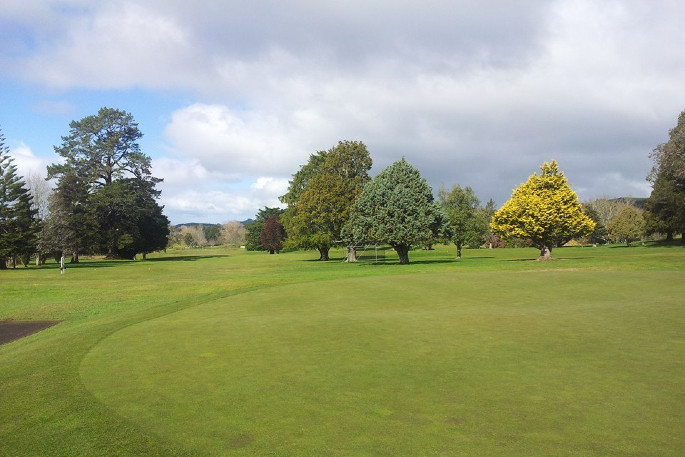 Nan says Nationwide sponsors Expol, Cranium Signage, Clark Equipment, Gas NZ, Golf Warehouse, and Craigs Partners ensure a wonderful prize table again this year.
"There will be a substantial prize for the first hole-in one, a nearest-the-pin circle competition on the par three eighth hole with a generous reward for the winner, and a prize for the longest drive."
In addition, a Weber BBQ, sponsored by Clark Equipment, and an Expol mystery item will be raffled.
"The club is most grateful for the continued generous sponsorship and support provided by these enterprises."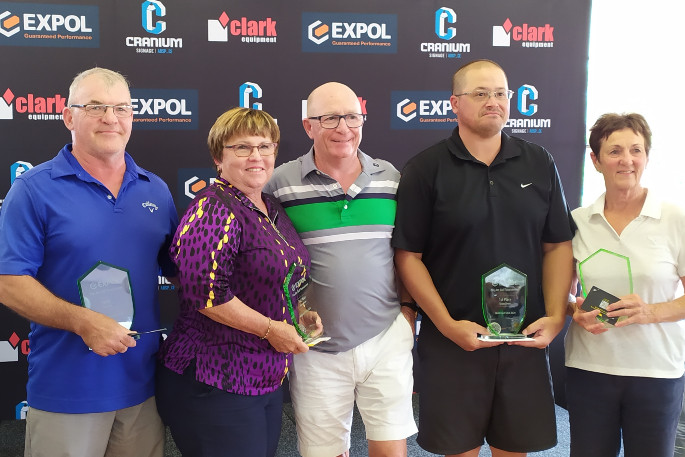 2020 Pro-Am winning team L to R: Mick and Jenny Wilson, Terry Mischefski (Expol,major sponsor),Troy Ropiha (Professional), Vivienne Lilley. Photo: Supplied
The Expol PGA Pro-Am tournament format is the same as last year— a shotgun start with a professional golfer and three amateur players in each team, with all stableford scores over 36 holes to count.  
The professionals also play for their own purse as individuals on gross over 36 holes and will endeavour to better Daniel Pearce's tournament 132 gross, and record 62 over 18 holes in the process. The top individual amateur receives the Maureen Murray Trophy.
"The emphasis is on fun and to enjoy the rare opportunity to play with, and pick up hints and tips from the professionals during the tournament, and their exhibitions of putting, chipping and bunker play after Saturday's golf can only be beneficial."
Radio personality Peter Williams will compere the activities after golf while the split roast meal is underway, and on the balcony above all the action there will be background music provided by toe-tapping Katikatz Dixie Band.
It promises to be an exciting weekend, and Nan says that spectators are more than welcome to visit the course to see the experts in action, and be part of the festive atmosphere.
Representatives of sponsors Expol and Clark Equipment will be on hand at the players' refreshment stops on the first and 13th tees.
"They will be only too happy to discuss their products," says Nan.
After the first day's play, it is estimated that the formalities will be over and done with by 5.30pm to give players time to enjoy Waihi's scenic spots or a meal in a local restaurant.
"On the second day, prize-giving will be run to a tight schedule and completed as quickly as possible, bearing in mind that the beach and families are waiting."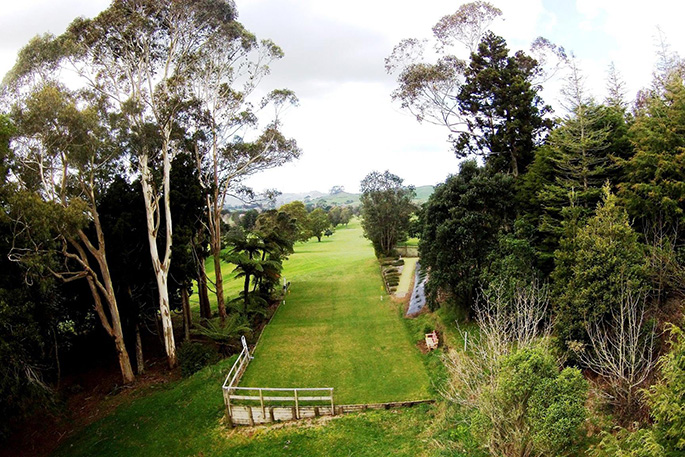 Credit: Source link