YOU didn't honestly think he'd retire for long did you?
Paul Hickling stood in the restaurant a year later and thought how sad it was for such a vibrant place to die. Then he had the idea of Crazy Golf! He had the land and so, 125 sacks of cement, 40 tons of gravel, 20 tons of marble chippings, 23 trees cut down, a lake filled in, two broken ribs, a crushed elbow and a lot of blood spilt on the earth, the course is now a reality.
He has built 18 holes, although after the first nine he thought "I must be mad," opened the bar again and revamped the restaurant area that was.
Roman Oasis Crazy Golf and Bar is open every day from 10am to the last round of golf at 7.30pm. If people are playing the bar stays open until 9pm, otherwise they close at 8pm and they are closed on Wednesdays.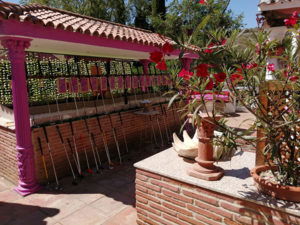 They will stay open for the season as long as the river allows. Unfortunately, they are not serving food, however they do offer snacks like crisps, nuts etc and ice creams. They look forward to seeing you all!