Jon Collis from the North Shore Golf Club's offer came after a neighbour reported the matter to the council, which also said the sign would be reinstated.
"I didn't know the sign had disappeared," he said.
"We've never had any issues with people being on the golf course.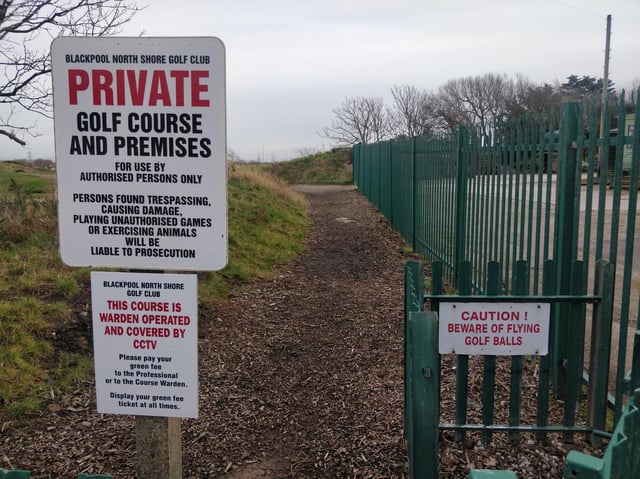 Private land signs at North Shore Golf Course. Photo: JPI Media
"It's not highly used and it's never been a problem."
The right of way, which has to be maintained by the local authority, runs from Duchess Drive to Devonshire Road.
While there's a public footpath sign in Devonshire Road, the one on Duchess Drive was found lying out of sight on the ground at the weekend beside a large sign saying: "Private golf course and premises for use by authorised persons only," and threatening prosecution against trespassers – and warning of wardens and CCTV cameras.
There was no suggestion the sign was purposefully removed.
The public footpath sign at Duchess Drive leading onto North Shore Golf Course had been damaged and discarded. Photo: JPI Media
While the course itself is private land, with the club buying it from the council around 20 years ago, Mr Collis said, the public right of way runs across it and is legally protected.
In a complaint filed with the council, an unnamed resident said: "Please ensure the signs are reinstated and the golf course made to clarify their private property signage," which he said is "misleading".
Mr Collis said: "There are bigger private land signs for health and safety reasons because obviously there are golf balls flying about," although a separate, smaller sign already warns: "Caution! Beware of flying golf balls".
Mr Collis said: "We have paved the path part of the way across the public right of way, and in summer when we are able to mow the grass there is a clear path across the fairway.
The public right of way leading through North Shore Golf Course. Photo: JPI Media
"We would love to have some sort of material all the way across the course, and we're hoping to work with the council on that.
"That section of the path was paved to keep walker's feet dry in long grass and bad weather, and it's one of the routes out of the course for our maintenance vehicles."
Earlier this month, the council was accused of failing to maintain its 47 rights of way across the borough – covering a total distance of 12km – and told it was in breach of its legal responsibilities.
Councillors, who also raised concerns over the issue, agreed to examine public rights of way as part of their scrutiny work plan.
Coun Jim Hobson, the council's environment boss, said: "A member of the public has recently raised the issue of public right of way maintenance. As a result all signage and accessibility of the 47 rights of way in the borough will be reviewed and where improvements need to be made they will be."
Credit: Source link