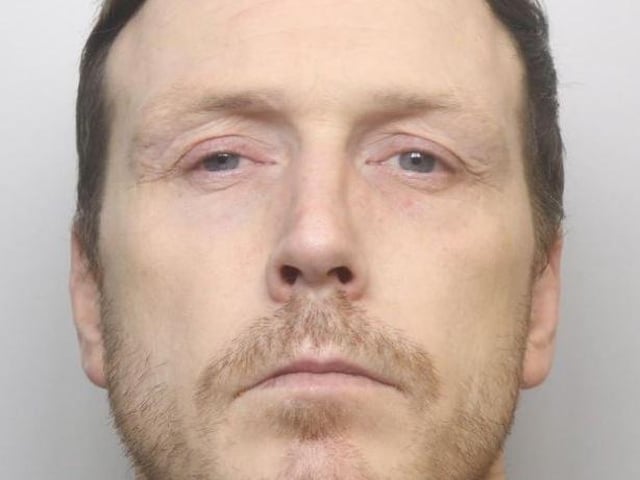 Terrence Burns
Terrence Burns targeted Calverley Golf Club and a West Yorkshire primary school during a one day crime spree on December 15 2020, Leeds|Crown Court was told.
Jailing Burns for three years and four months, Recorder Mark McKone told him: "You are a career criminal with a total disregard for the law."
Katheine White, prosecuting, said a man working in the golf club shop was alerted by an alarm sounding in the bar area just before 8.30am.
Meanwhile, a member of staff at the club had reported seeing an unknown man with a backpack enter the club.
Burns, 38, was then seen in the car park getting into a stolen white Suzuki Swift
Miss White said a man from the golf club stood in front of the car before getting out of the way as it rolled towards him.
He then took a photograph of the Suzuki, which was driven straight through the closed car park barrier.
Burns took a charity box containing an unknown quantity of cash, a jacket containing £80, a leaf blower and a pair of safety boots worth £25.
The leaf blower and an iphone taken in an earlier burglary were later recovered.
Miss White said that just before 7am that day, Burns was spotted leaving an office at Headway Business Centre Bradford with a tool bag.
A member of staff arriving for work confronted Burns, who threw the tool bag down and ran to the white car he had arrived in.
The staff member tried to take photos of Burns as he drove the car at him.
Burns turned the car away from the man at the last minute and drove off.
An iPhone and an iPad had been taken from the office, along with the tools, which were worth a total of around £1,000.
Around 20 minutes later, Burns was caught on CCTV looking around classrooms atThornbury Primary School at Bradford before leaving empty handed.
Burns then went on to commit the burglary at Calverley Golf Club.
At around 7pm police spotted the Suzuki Swift on Tong Lane in Bradford and Burns failed to stop when requested to.
The car was later found abandoned and a crow bar was found in the car along with number plates stolen from another car.
Burns, of Eversley Drive, Bradford, admitted handling stolen goods, two charges of burglary, dangerous driving, attempted burglary, driving whilst disqualified, using a motor vehicle without insurance and failing to stop.
The court heard he has 33 previous convictions for 81 offences, including 27 for theft.
James Littlehales, mitigating, said Burns had argued with his partner and taken a number of prescription drugs before committing the offences.
Mr Littlehales sadi: "He is determined to address his offending behaviour."
After jailing Burns, Recorder McKone banned him from driving for four years and eight months.
Credit: Source link